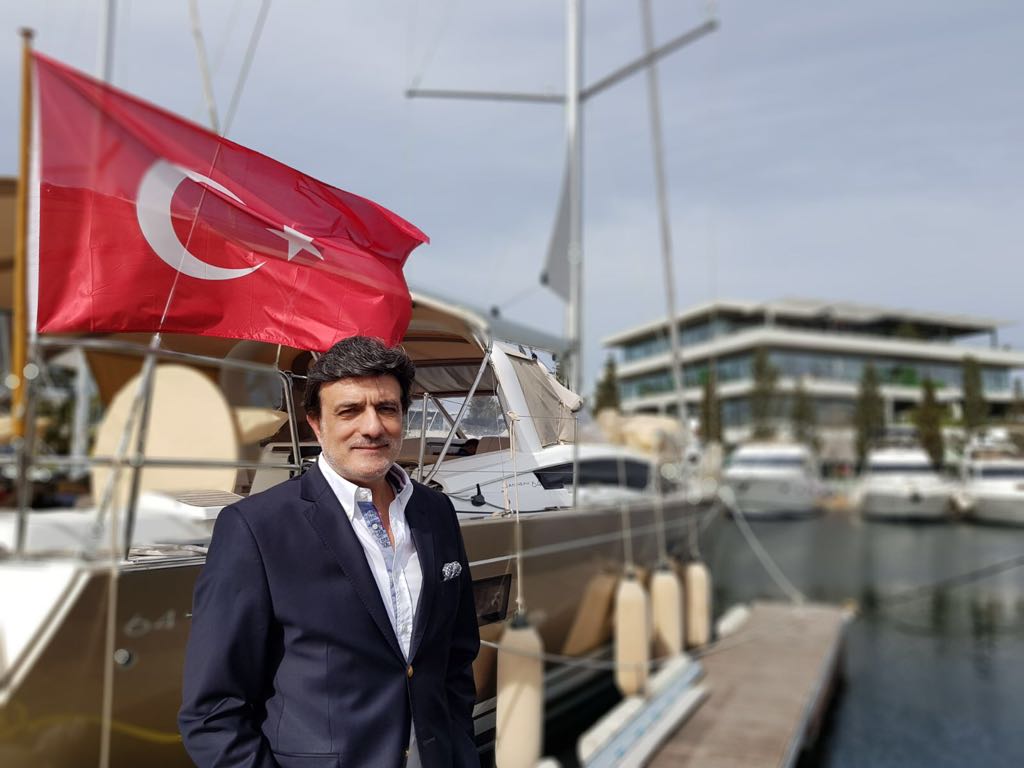 Istanbul's Gateway to the World; Atakoy Marina…
"Victory, the country that controls the sea, what it needs, when it is needed, where it can reach where it wants to win" said Mustafa Kemal Atatürk
Atakoy Marina is the most important and the first marina of Istanbul's 5 golden anchors. We made a very pleasant interview with Mr. Süheyl Demirtaş, the general manager of Ataköy Marina, who spoke about his name with his energy, experience and projects.
Ataköy Marina, which is one of the most distinguished marinas with international standards with its location and the interiors of the sea, has been both excited and proud of the projects that have passed and will be passed on. In addition to having one of the most exclusive and prestigious marinas in the world, it is also proud to be completed in a very special date …
Süheyl Demirtaş was born in Istanbul in 1962. Graduated from Naval War College. There is a very enjoyable naval history with a 4 year military school, 25 years officership. He was an officer at a very early age. He graduated from the United States Marine Corps College. He served in NATO for 3 years in Italy. Let's listen to the rest itself;
During these duties, I have had the opportunity to see the world. I believe that human life is so valuable, alone is worthwhile to anyone, to any organization, not to be devoted to life. So I always had a second career, private sector, civilian life in my head. It's a good thing too. I look back and see that I make a very accurate and appropriate decision.
In 2008, I left Kurmay Albaykan Navy. Kiran Shipyard in Tuzla, a holding company which is the Assistant General Manager responsible for business development, Turkey Shipbuilders' Association (GİSBİR) I found the General Secretary. Later, I was the Chairman of the Board of Directors for 3 years professionally in GİSAŞ Gemi İnşaat Sanayii A.Ş, which provided pilotage and tugboat on over 50 ships in Tuzla Aydınlı Bay. I also had a small shareholder during the term. Later, DATİ Investment Holding, which is a part of our maritime business, offered the General Directorate of Ataköy Marina.
I've been here for about 1.5 years. I enjoy it very much. I think the civilian side of maritime is the best market that I can project your accumulation to the field … I love sea, maritime. I have made very good friendships. Indeed, a very different world is maritime … I am proud to be a part of this family.
Can you give information about Ataköy Marina and Mega Yacht Harbor?
Ataköy Marina is located at the south exit of the Istanbul Bosphorus and is the gateway to the sea of Istanbul, the mysterious and modern city that combines continents, cultures and civilizations.
Our Marina by The Yacht Harbor Association " Five Golden Anchor 'has been awarded the distinction of being the first marina in Turkey.
Also awarded by the European Environmental Education Authority (FFE) is the "Blue Flag" award.
ATATURK Having a great location advantage due to its proximity to Eurasia Tunnel and many sea and land transportation vehicles, especially at the airport, a big step was taken on behalf of Turkish maritime along with the Mega Yacht Harbor which was active in May 2017 in the area of Ataköy Marina. a total of more than 1000 boats were reached at sea to provide anchorage.
As Atakoy Marina, up to 100 meters in length from 25 meters to 232 Mega Yacht at the same time having the capacity to host its first Mega Yacht harbor We are proud to bring to Turkey. Mega Yacht harbor and many exclusive boats can now be easily visited by Istanbul. Thanks to the harbor, these special boats will be able to carry out all kinds of maintenance and restoration here while getting the opportunity to spend their winter months in Istanbul.
In addition, everybody on the breakwater is 1.5 km. a walk and a bicycle path were also made available for our people to embrace with the sea.
You brought new energy and change to Ataköy Marina. What advantages does the Marina offer both in terms of services and location?
Atakoy Marina offers much more than a marina. It's a 24-hour campus. The hotel is a center of attraction with shopping center, cafes. We have a very serious location advantage. Ataturk Airport is 8 kilometers away. It is possible to reach the historic peninsula in 15-20 minutes by car. Marmaray, who goes up to Kazlıçeşme, joins the two sides of the city. The Bakirk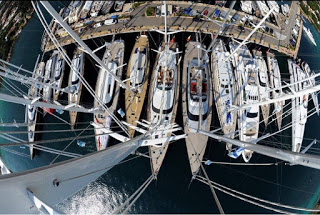 oy subway station is being built in front of the Sheraton in the marina area. Besides these, our location in the sea also offers important advantages. Both the Islands and the Bosphorus are very close.
Depending on all these advantages, we also have an important customer portfolio. We have a traditional customer kit. We have 35 years of customer, for example ours. It is a tradition that passes from father to son, from torch.
So you can get a 24 hour service on your…
There are people who live on the boat because it is a place that lives 24 hours. But we have a serious customer kit, especially those that spend their summer months on the boat. Here you can see the mothers who take your child to the school in the morning. There is a serious interest on weekends and evenings. On the other hand, our client is composed of people sitting in nearby areas. It was the same in the past, it is today. Ataköy, Bakırköy, Zeytinburnu, Bahçelievler, Yeşilköy, Yeşilyurt'te people come from. It is already determined that the marina selection. A boat owner who lives in Bagdat Caddesi naturally chooses Kalamış.
Customer satisfaction in the marina sector is a different…
Of course this is a different area; "Pleasure" sector. Nothing here will go wrong. 99% success, unsuccessful marinas. Because people are making serious investments. There is a price to be a boat owner; you get a boat, you rent a marina, you have maintenance, you have a captain, you have fuel …
Of course we also need to provide excellent service. Here they come to enjoy restaurants, friends, friends, loved ones. The pleasure for us is to be working in a place where people are going to breathe. It's a really different feeling.
What is waiting for us in the big project which is different from other marinas of Ataköy Marina?
Ministers planned as Turkey's first tourism center in 1989 by the Council and DAT Investment Holding Co. When the Istanbul Tourism Center (İTM), which has been passed on by the worst, is completed, the world will contribute to Istanbul which is the most beautiful city in my opinion.
The project, which is developed on the area of ​​500.000 m2 on the coast of Ataköy, Istanbul, has a green, art and exhibition areas, cafeteria, theme parks, indoor and outdoor sports areas, swimming pools, 3 km walk and bicycle park on the breakwater converted into a green space, shops, restaurants and cafés with famous brands center.
The completion date of your projects is quite meaningful and private, is this a coincidence?
It is absolutely no coincidence DATİ Yatırım Holding A.Ş. is to complete this project which gives pride and excitement to all of us on 29 October 2023.
What are your views about megayat market? Atakoy Marina will be in this market?
With Mega Yacht Harbor we had to develop a different marketing and focus policy. Because there is a potential customer in the mega yacht market in the world. Our marina has always been filled with over 80 percent. We believe that we have a potential to influence the demand balance of the markete, supply demand by our mega yacht. On the other hand, mega yacht is a limited market in the world. So the figure we are talking about is 7 or 8 thousand. However, we have two main goals to focus on our mega yacht; Russia and the Arab peninsula. These two markets are both close to us as a location and culturally. In addition, these two main markets, when we look at today's tourism, are the two most important tourist sources and seriously own a mega yacht fleet. The material we market is also very valuable. We are on a historical legacy like Istanbul. We are carrying out our marketing activities by offering a package that both Istanbul and our marina will appeal to and winterize.
Your maritime history? The marina Turkey's place in the world what is?
As I mentioned earlier, I have only been involved in maritime and maritime business for about 35 years, and I also love licensed yacht and sailor sea.
It is always said that "the sea will never turn back the hand." The sea is very benevolent and very efficient. The source is endless. In the world 95 percent of the transport is done by sea. So if the volume of trade in the world is increasing, it will be reflected in maritime first. Maritime is an international industry. Rules are international. You have to comply with accepted norms in the world and implement it. It is a great advantage. It integrates into the world of marine industry.
It can not be considered otherwise. That's why marines have a very different
The yachting regions in the world have developed in the Mediterranean and the Caribbean. It's concentrated in two areas. When we look at the number of binding sites, there are around 3 million binding sites in the world. There are 1 million 800 in North America, 600 in the Mediterranean, 300 in the Atlantic and North Sea, 200 in the Far East and Australia … The Mediterranean is a very important dish. It is almost the world's place where 4 technicians are connected. Therefore, our mega-yacht port is in the way of becoming an important player in the Mediterranean with this investment and location. But there are the first group of countries on the landing and marina. These are called premier groups. These are France, Italy and Spain. France is at number one on the list. The length of the coast is 4 thousand 668 km. Ours 8 thousand 333. That is almost twice France's coastline in Turkey. There are 370 marinas in France and we have 75 marinas. The connecting capacity of France is 180 thousand and we are 18 thousand 400. That is double the length of our shore, but our connecting capacity is 10 and 1, and the marina is 1 in 5. The gap is incredible. This is a sad situation for us.
A more dramatic picture emerges if we look at the number of boats per capita in proportion to the population. These are reports from an international study. 2 thousand people dropping a boat in Turkey. Leading countries in this regard are Norway, Finland, Sweden and Denmark. There are 6 and a half people in Norway, 7 people in Finland and 8 people in Sweden. Come on, these are Vikings. This rate is more than we have in Austria and Switzerland, which have no beaches. There are 73 people in Switzerland without sea, 293 people in Austria. We have almost ten times our country's climatic conditions more favorable for fishery because in Scandinavia they are doing it in a much harder climate.
It's a different world if we go back to the Mega yacht. The super yachts above 30 meters are called mega yachts, and 90 meters above the giga yacht tera yachts. But over 30 are all entering the definition of mega yachts. At present, the world's largest mega-yacht belongs to the royal family of Saudi Arabia. The construction was done in Germany. This yacht is equivalent to a yacht link of 8 meters yacht per year. Azzam's annual context corresponds to the 30-meter 12-foot yacht connection. Mega yachts are simply expressed in millions of fuel purchases. And this mega yacht has a charter market. So instead of having mega yata, there are also tenants. Here we are talking about a $ 5.8 billion market in the world. Weekly rentals vary from 500 thousand to 1 million 300 thousand dollars. Plus 20-30 percent of the cost, accommodation, entry and exit. The fees are also not included in the rental rate. One thing we are bowing to is the charter market. In particular, there are yacht management companies that offer such services in the monaco bell. We are one-on-one with them. The mega yacht in the world continues on an increasing trend. But it's a limited market.
You have voiced the importance of sports in your life many times and I am very sensitive in this matter what are your recommendations to young people who do not move especially and to families who do not direct their children to spore?
Since high school, I regularly do sports, I see a minimum of 3-4 days a week as a way of life and necessity. I think that it is very important to motivate them to motivate them in this way if you make sporting habits first in the family and then in the schools after the families are brought to the schools by your children. Regularly this is reflected in your children as well. I have always carried my sporting goods with me on all my domestic and international travels and I ran around almost every corner of the world. Believe me when I am distracted from work intensity I feel nervous.
You have the samples to be taken as examples of life. The most cautious sentence is "know yourself, know your enemy" What does this sentence tell us, which is your favorite?
The Chinese philosopher Sun-Tzu takes place in the book "Art of War", written 2,500 years ago today
"He who knows himself, but does not know his enemy, is condemned to be defeated.
A man who knows his enemy, but who does not know himself, is condemned to be defeated.
If you do not know yourself or your enemy, you are a prisoner.
It will achieve absolute self-destruction, both self and enemy. "
This universal work is made up of 384 war theories assembled in 13 episodes.
However, the principles underlying these theories have led the leaders in the economic and political spheres as well as in the battlefield for centuries. "War Art" is one of the most important books on strategy. Sun-Tzu is so extreme that there are countless seminars and theses every year in all military academies of the world.
My favorite culmination is "Life is math for me". Of course we have feelings, but I do not give any of my major decisions for my life with my emotions, and I believe that I am successful. I have seen that those who gave major decisions in life with their emotions ended with a great disappointment.
In another, everyone is the most precious person in their own life, because if the person is physiological and psychologically healthy and peaceful, the better the son, the better the father, the better the wife, the brother, the friend etc. You can not be happy as an individual, but how can you give happiness to your surroundings as a social entity?
Come to your social responsibility projects. I know you're pretty sensitive about this. One of the best examples is the material aids you made for Siirt 'amateur athletes… Can we listen to you on behalf of everybody to make an example of your details?
Yes, it was about five years ago, Turkey Shipbuilders our union by the time I was starting my Secretary-General and are still continuing our efforts. In Siirt, where my roots are rooted, I started to wear an elementary school clothes, books, computers, and the school with athleticism, and provided support to the teams of provincial athletics. We are a daughter on a journey that begins that day Second in the world, a son We are the second in the Balkans as a third son of the world We are still competing as our national athletes. It is really emotional and proud.
Thank you so much for the wonderful information about Hayata and the sea. Finally, what do you want to add?
Everyone has a way of holding on to life and I believe that the things that bind me to life are to create work and to create added value to my work and I want to continue this lifestyle as long as God gives health.
Thank you for this enjoyable conversation.
We feel the meaning of our being by producing, mingling, touching people's lives. If you're in a bad storm, you can still see the sun on the horizon. They say; Time and tide do not expect anyone. Never give up being a model person…
PINAR TOK